OCRE4Ukraine – Quantifying war damage in Ukraine based on EO data in support of EO4UA initiative
It is the project of Anhalt University of Applied Science and National Technical University of Ukraine. Igor Sikorsky Kyiv Polytechnic Institute" (NTUU KPI) selected for funding within Open Clouds for Research Environments (OCRE) European Commission project. The OCRE project, aims to accelerate cloud adoption in the European research community, by bringing together cloud providers, Earth Observation (EO) organizations and the research and education community.
In this project partners from Center for Artificial Intelligence for Big Data and Telecommunications (AIDA-TI) get 200K Euro for data and cloud services during the next 2 years. The main focus of the project "Quantifying war damage in Ukraine based on EO data in support of European EO4UA initiative" is to develop and scale up crop monitoring methodology and assess war damages based on EO data using advanced machine learning algorithms deployed within cloud infrastructure. Currently, some pilot studies were done only for the region close to Kyiv (Ukraine) (www.eo4ua.org) using on-premises (local) and constrained cloud computing infrastructure (CreoDIAS). For rescaling it to a country level a numerically efficient cloud environment is needed.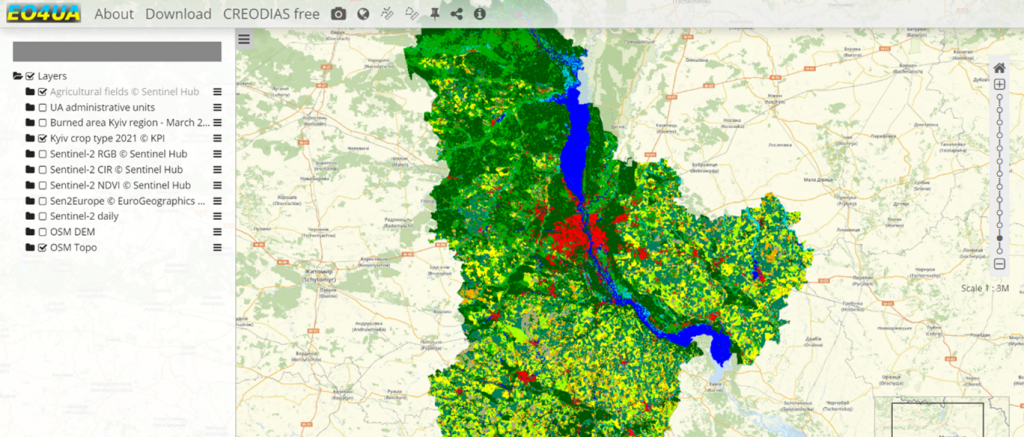 This project is an example of synergetic effect of AIDA-TI. We used the opportunity to participate in European projects of Anhalt University (Ukraine does not have such prerequisites), and more than 10 years of experience in machine learning and satellite data field of NTUU KPI specialists. It is essential in respect to prospective inclusion of Ukraine within the EU to facilitate technology transfer (including cloud computing) from member states to Ukraine. Moreover, the use of EO monitoring is compulsory to fulfill requirements of the Common Agriculture Policy (e.g., development of Land Parcel Identification System) or European Green Deal and our OCRE project can be considered as a preparatory activity in this respect.
The activities within the project will help to respond to the following global challenges of innovative development:
Strengthening the European Research environment in the area of EO and integration of Ukraine into it
Extending the best EU practices and innovations to Ukraine in a mutually beneficial way
Contribution to the restoration of Ukraine and moving to sustainable economic environment with focus on Green Deal, Common Agricultural Policy (CAP) and Land Parcel Identification System (LPIS)
Continuation of digitalization and intellectualization of the economies of Europe and the Eastern Partnership countries
Contribution to AI and machine learning algorithms and applications aimed at supporting big data processing in strategic areas such as climate change, green deal, sustainable development, strategic planning, economic and business analytics.
There are different players within the EU4UA initiative at the moment, in particular Joint Research Center of EC, CloudFerro (cloud services provider), commercial companies, who deal with EO data and products, universities (Anhalt University of Applied Science, National Technical University of Ukraine. Igor Sikorsky Kyiv Polytechnic Institute") and other European and Ukrainian organizations.